Research Project List (Last updated on May 07, 2018)
Flight Safety Regulation Development and Integrated Operation Demonstration for Civil RPAS

Development of a core technology and infra technology for the operation of USV with high reliability

Development of smart drones system based on safe and convenient ICT

Development of the UAS Collision Avoidance System based on the ADS-B

Development of deep learning based autonomous open EV platform

The research of vision-based UAV tracking and capturing the target

Development of human-scale pilot robot - PiBot : Pilot Robot

Development of the surveilance and reconnaissance UHV (Unmanned Hybrid Vehicle)

Indoor 3D Navigation and Closed-Loop Control using a LiDAR and an IMU - Monte Carlo Localization in an Octree-based Occupancy Grid Map

Research on Guidance and Control of Highly Maneuverable UCAVs in Dogfight(NRF)

Flight validation of control law using a small UAV (KARI)

Study on Aerodynamic Characteristics and Control Law for a Tail-sitter (ADD)

Cooperative System for Heterogeneous UAVs (ADD)

Intelligence-based Unmanned Aerial Vehicle Control Specified Research Center



l Flight Safety Regulation Development and Integrated Operation Demonstration for Civil RPAS
While there are impending explosive demands, in order to safely integrate unmanned aerial vehicles into civil airspace, - Prepare critical infrastructure for basic operation of civil RPAS - Collect flight data of RPAS under various experiment conditions using the aforementioned infrastructure, - Analyze the collected data to draft flight safety regulations, certification process, and operation procedures By executing the procedures listed above, our nation can be prepared for the impending era of civil RPAS and participate in the ICAO RPAS rule making process as a leading country based on the research results generated from the domestic RPAS operation.
This project is funding by Ministry of Land, Infrastructure, and Transport from 2016.


l Development of smart drones system based on safe and convenient ICT
The objective of this project is that we develop the smart drone. Smart drone can be used in a variety of fields related with safety and convenient service by using ICT technology. Especially, Our research lab develop the vision-based automatic landing, fault tolerant controller algorithms for the rotary UAV.
This project is funding by Ministry of Trade, Industry and Energy from 2016.


l Development of a core technology and infra technology for the operation of USV with high reliability
The objective of this project is establishment of the USV(Unmanned Surface Vehicle) certification system and regulation for the operation of USVs in Korean waters and development of cooperative technology for multiple heterogeneous unmanned vehicles(USV and UAV) and technology for their maritime application services
This project is funded by the Ministry of Oceans and Fisheries from 2015.


l Development of the UAS Collision Avoidance System based on the ADS-B
- Vision-based aircraft detection using deep learning
This project aims to develop airborne collision avoidance system and related technology based on the performance of manned aircraft for civil aviation airspace integration operation. In this study, a remote aircraft is detected using an image sensor. Deep learning technology enables detection of flight objects in cluttered backgrounds and has a fast processing speed that can be used in embedded computers.
This research is funded by Uconsystem and the Ministry of Trade, Industry & Energy from 2015.


l Development of deep learning based autonomous open EV platform
Autonomous driving and artificial intelligence technologies are the leading fields of the 4th industrial revolution. In this project, our consortium aims to develop the EV based open autonomous vehicle platform that allows access to the essential technologies for autonomous driving such as perception, planning and control. Among them, our research team is performing autonomous driving control based on End-to-End deep learningwhich predicts optimal control command from sensing data as one neural network.
This project is funding by Ministry of Trade, Industry and Energy from 2017.


l The research of vision-based UAV tracking and capturing the target
Recently, drone market increased rapidly according to the growing popularity of drones. However, as the usage of drones increased, the people who take advantage of the drone increased as well, from minor violation like picturing the private life with the camera on it, to a special crime like delivering drugs. This research aims to develop the vision-based UAV to track and capture the target, which is the drone attacking to our camp. To achieve the objective, our research team integrate the autonomous flight system and the on-board image-processing system on the one UAV platform.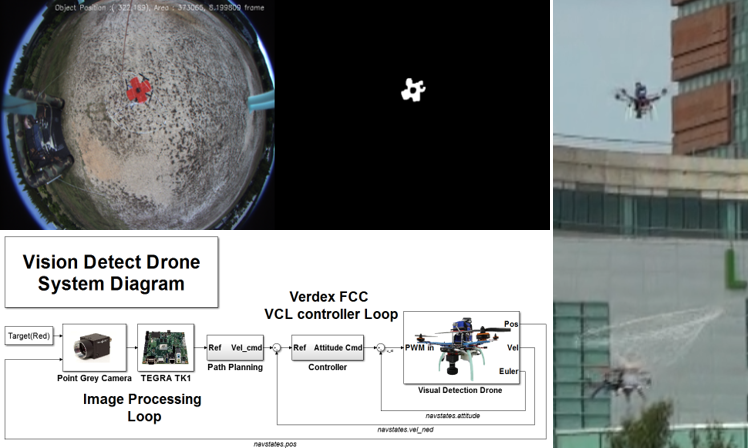 l Development of human-scale pilot robot - PiBot : Pilot Robot
The purpose of this research is development of a humanoid robot acts as the pilot for converting existing aircraft or car into unmanned aircraft or unmanned car with minimal modifications. In contrast to current trend, such as OPV technology and auto-pilot, this proposed method could give full-authorization to pilot robot and decrease altered parts and the required time. The pilot robot hardware is composed of four 6-DOF manipulators(two for arms and two for legs), two adapters for both hands, body frame, vison sensor. The software architecture is designed to automate flight operation from take-off to landing. The core of software is feedback control of aircraft by manipulating cockpit components based on the flight states received from flight simulator computer and waypoint planning.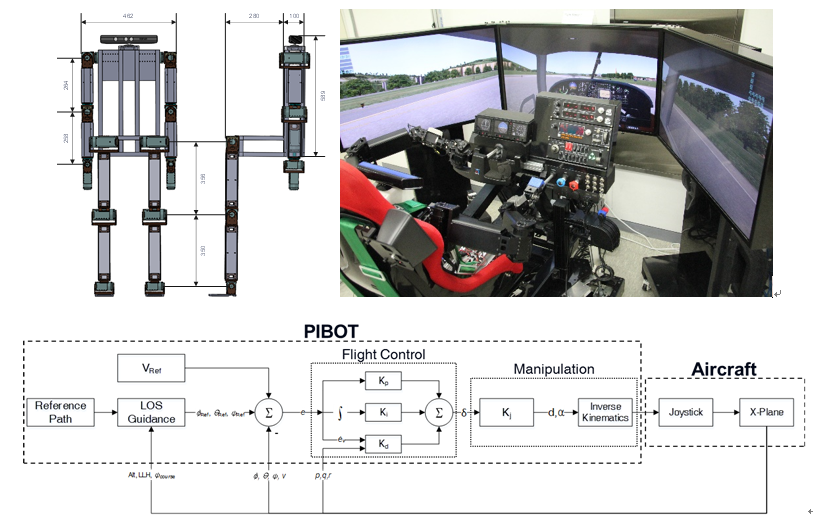 l Development of the surveillance and reconnaissance UHV (Unmanned Hybrid Vehicle)
The purpose of this research is development of the autonomous robot which mutually supplements both issues of the UGVs and the UAVs by convergence of both systems. Unmanned ground robots have demerits about relatively short mission range and getting over the obstacles, and UAVs have issues of noise problem and lower energy efficiency. The developed robot can achieve various ground/aerial mixed missions which cannot be achieved by existing unmanned robots.
The UHV has ALFUS autonomy level 4, then it decides actions throughout a mission and notices to a user. It will be basically used for the surveillance and reconnaissance, or measurements of the radioactivity, gas, temperature, and humidity with additional sensors. This project demands overall unmanned system techniques such as indoor/outdoor navigation, guidance, obstacle detection and avoidance, environment modeling, path planning, etc.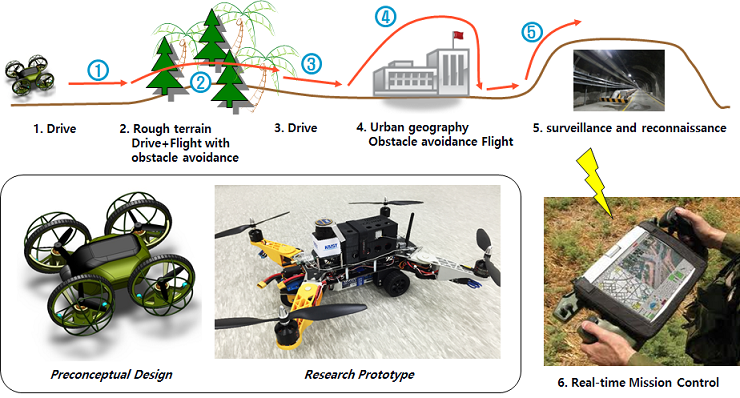 Recently, there have been significant advances in self-driving cars, which will play a key role in future intelligent transportation system. In order for these cars to be successfully deployed in real roads, they must be able to drive by themselves along collision-free paths while obeying various traffic laws. In contrast to many existing approaches that use pre-built environment maps of roads and traffic signals, we propose system using a unified map contains not only the information on real obstacles nearby but also traffic signs and pedestrians as virtual obstacles. Using this map, the path planner can efficiently find paths free from collisions while obeying traffic laws.
EureCar is a Self-driving car that can drives itself along the pre-planned path while avoiding obstacles and obeying various traffic laws. We have been developing 2 Self-driving cars, EureCar and EureCar Turbo. EureCar (our first Self-driving car) has high precision positioning system, 7 laser scanner and 4 camera has been developing for 2 years. EureCar Turbo takes 6 months of development time for the same performance as EureCar with less and low-cost sensors. We could curtail the development period from 2 years to 6 months by using previous software developed for EureCar. Especially, it took only 2 months for developing additional software for EureCar Turbo except the period of hardware implementation and remodeling.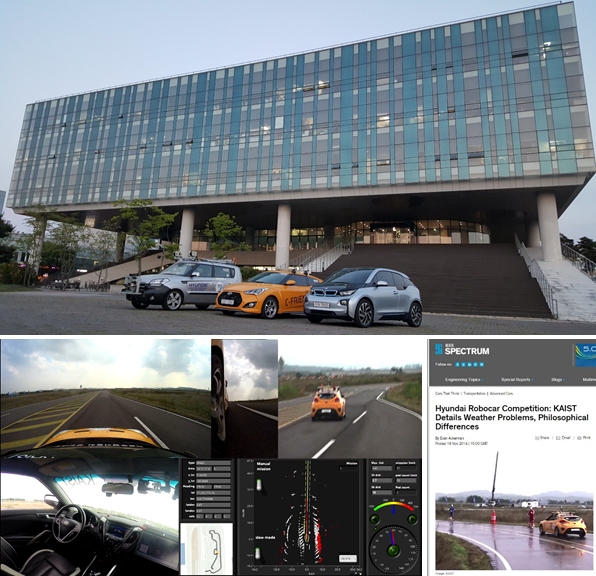 l Indoor 3D Navigation and Closed-Loop Control using a LiDAR and an IMU - Monte Carlo Localization in an Octree-based Occupancy Grid Map
We are developing a 3D navigation algorithm to provide a MAV with the estimated pose information in real-time. The navigation algorithm is based on Monte Carlo Localization (MCL) using a particle filter. The particle filter calculates likelihood of particles using laser measurements and ray-casted ranges of the particles that uses an octree structure for fast computation. The MCL using a particle filter is implemented to estimate position and attitude of the vehicle.
To validate the proposed indoor navigation algorithm, the experiment is conducted using a quad-rotor platform, a laser scanner, an IMU, a low-level flight controller, and a ground station computer. The onboard flight computer runs a low-level controller for position and attitude control. The attitude and position is controlled by a multi-loop PID controller and the guidance algorithm to follow waypoints or paths is also enabled. In addition, obstacle avoidance is available to deal with sudden interference of human for safety.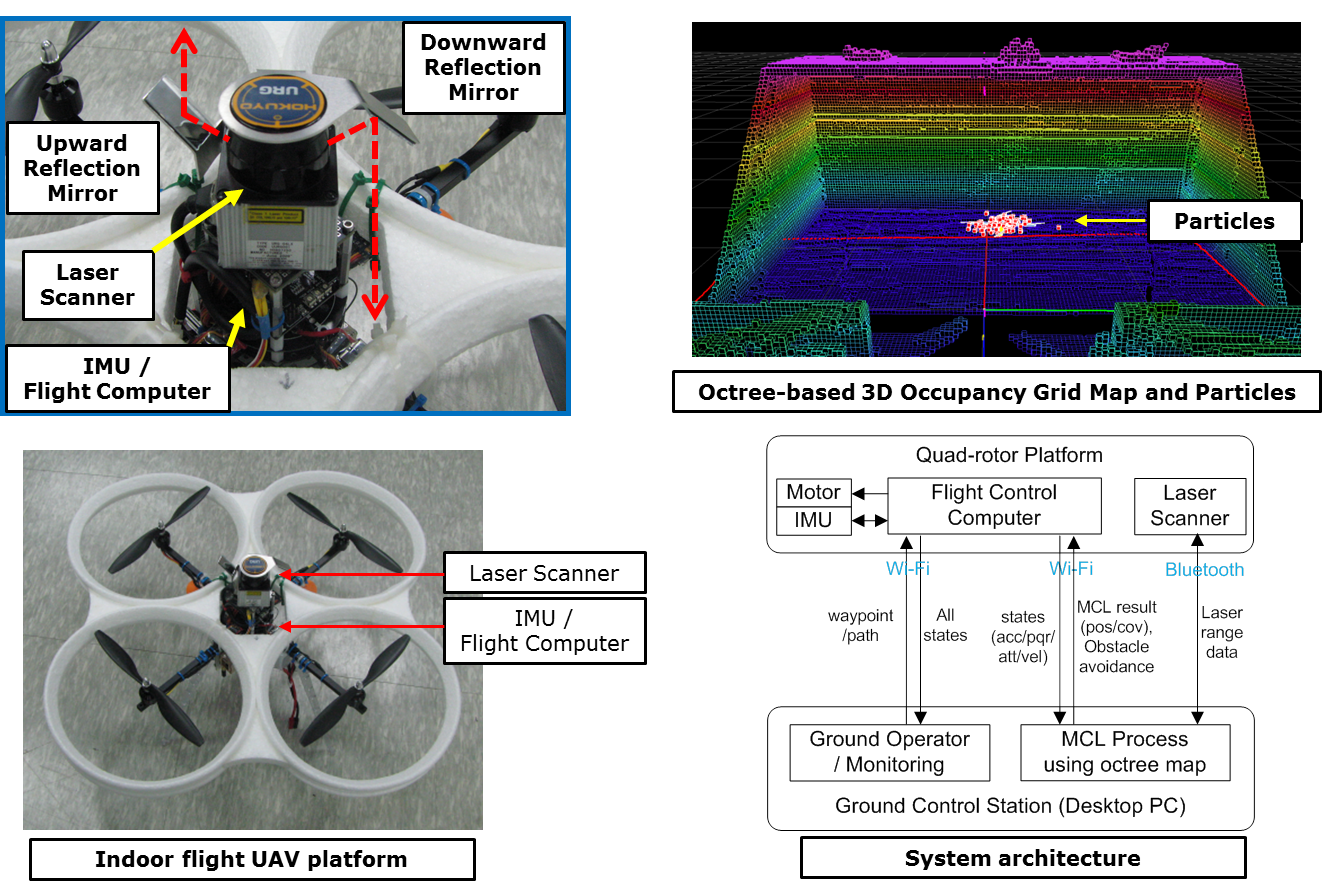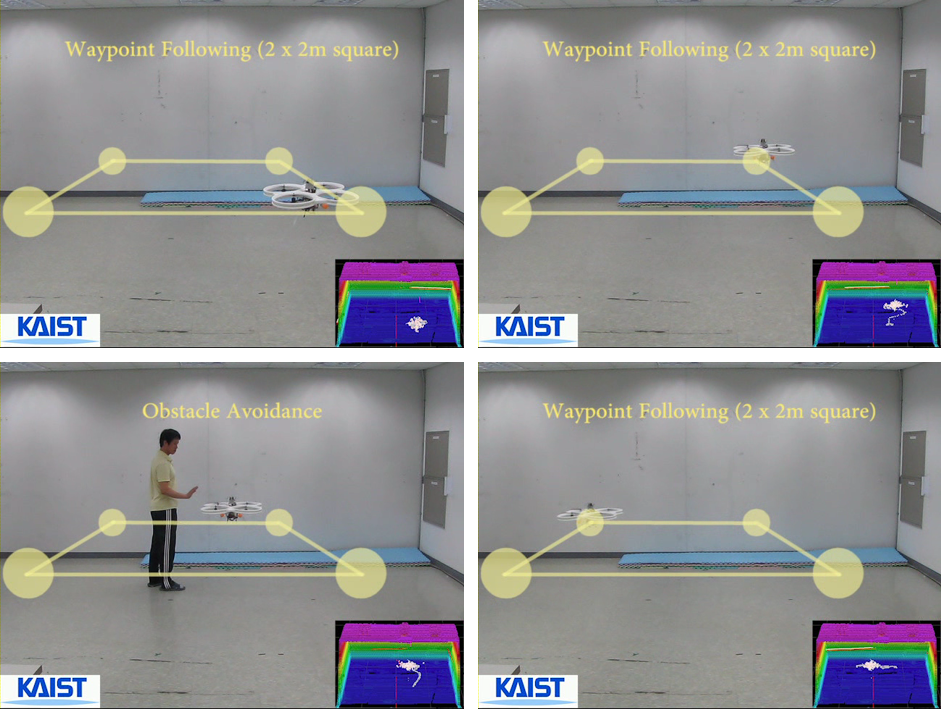 l 고기동성 무인 전투기의 근접 공중전을 위한 유도 제어 기법 연구
Research on Guidance and Control of Highly Maneuverable UCAVs in Dogfight
In this research, we aim to develop guidance algorithms that enable highly maneuverable unmanned combat aerial vehicles(UCAVs) equipped with thrust vectoring to engage a close-range aerial combat. The proposed three-dimensional guidance algorithm is complemented by a precision trajectory tracking, which is robust to damages or malfunctions of control surfaces or airframes. The proposed guidance and control algorithms will be validated in a series of high-fidelity nonlinear simulation using MATLAB and X-Plane and then real flight experiments with small-size UCAV test platform.
This project is funding by National Research Foundation (NRF) from 2011.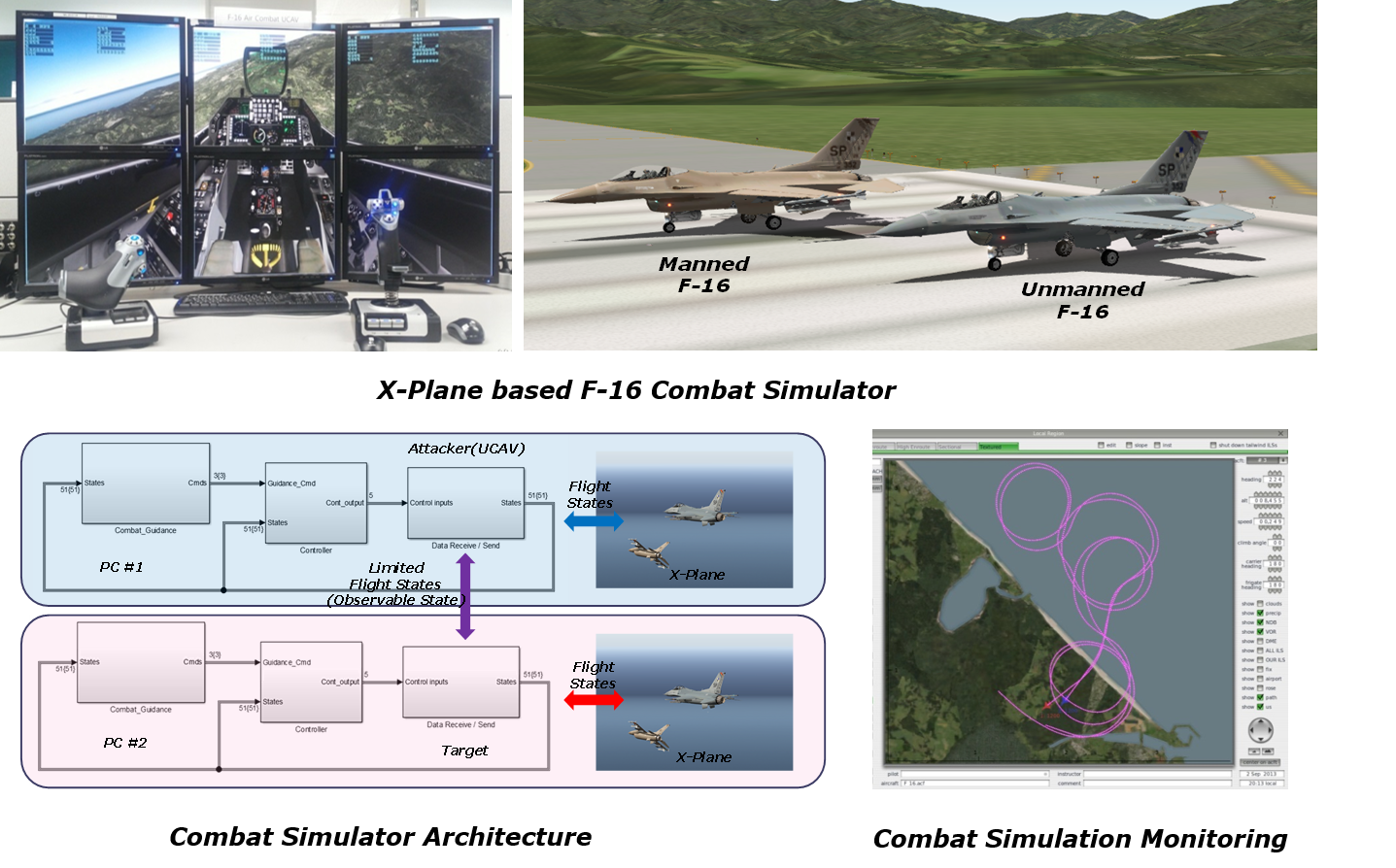 l소형 무인기를 이용한 제어 알리고즘 검증 비행시험 용역
Flight validation of control law using a small UAV

In this research, The stability and control augmentation system and longitudinal auto-landing guidance law, using Time Delay Control, is proposed and evaluated through a simulation with model uncertainties and wind disturbances. And the TDC is validated by a series of flight experiments.
This project is funding by Korea Aerospace Research Institute(KARI) from 2010.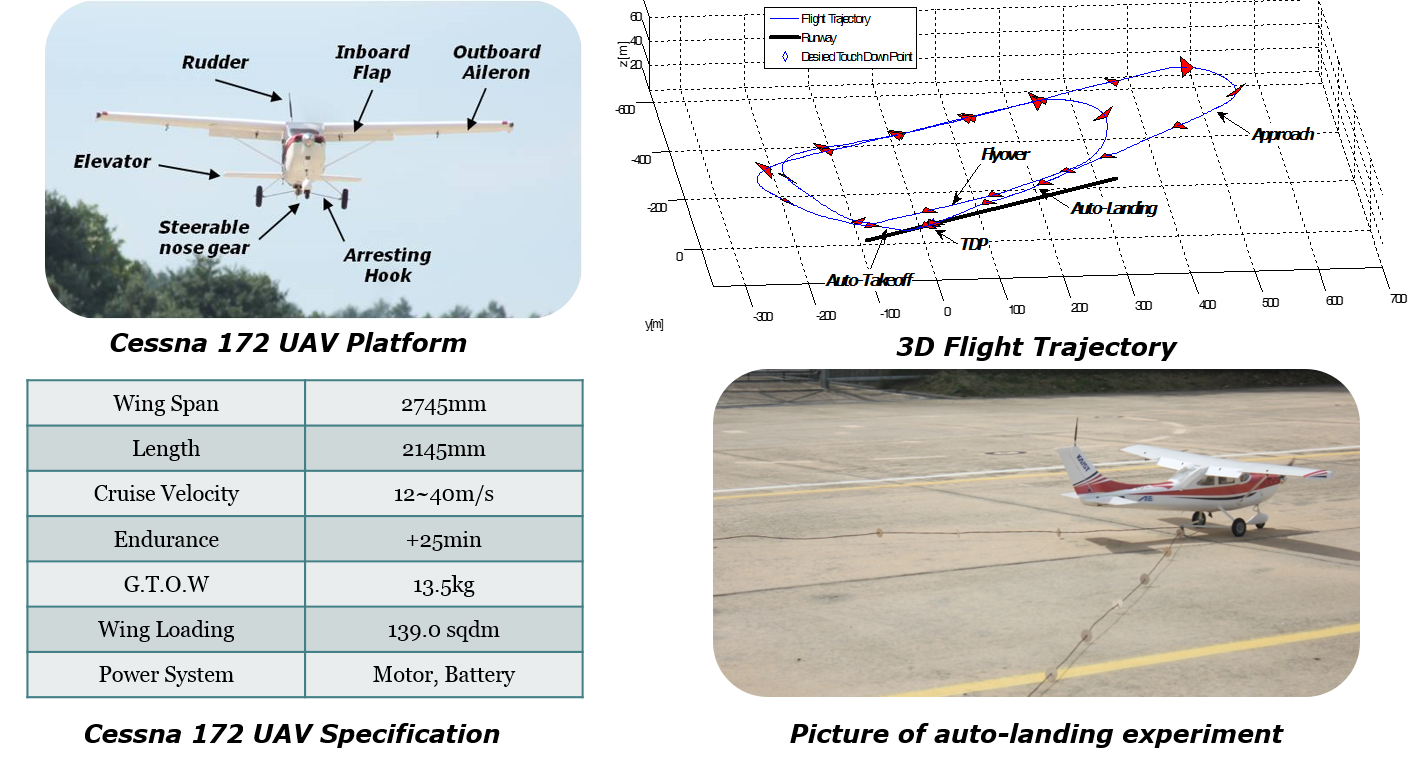 l Tail-sitter방식 비행체 공력특성 및 제어기법 연구(ADD)
Study on Aerodynamic Characteristics and Control Law for a Tail-sitter

There have been ongoing interests in a type of aircraft that are capable of vertical take-off/landing (VTOL) for greater operability and high-speed horizontal flight capability for maximal mission range. A possible solution for such application is tail-sitters, which takes off vertically and transitions into a horizontal flight. During the entire mission of a tail-sitter from take-off to landing, it goes through largely varying dynamic characteristics. In this project, we propose a set of controllers for horizontal, vertical, and transition flight regimes. Especially, for transition, in conjunction with conventional multi-loop feedback, we use L1 adaptive control to supplement the linear controllers. The proposed controller were first validated with simulation models and then validated in actual flight tests to successfully demonstrate its capability to control the vehicle over the entire operating range.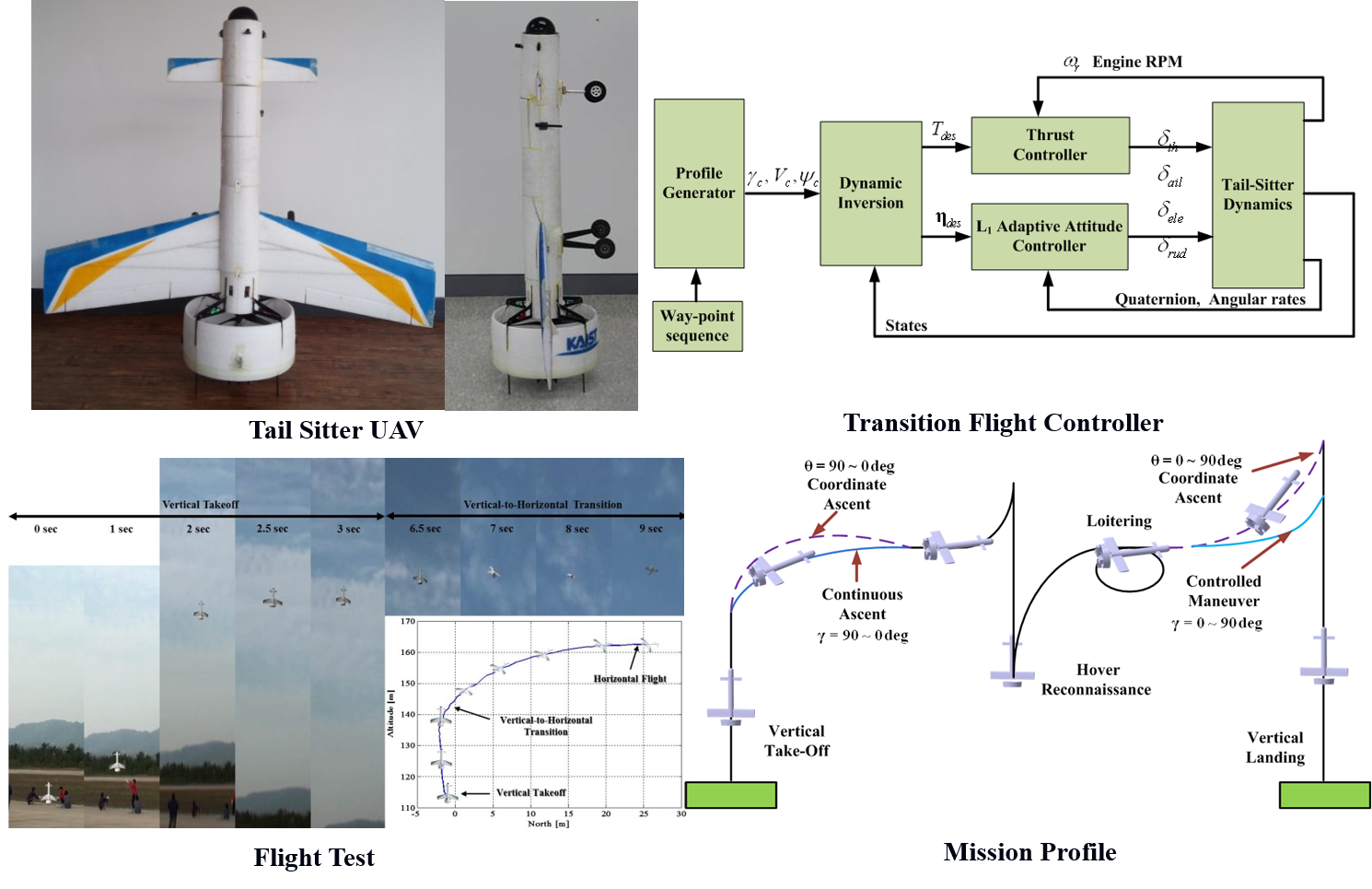 l 이종 자율 무인기 협업 체계 선행연구 , ADD
Cooperative System for Heterogeneous UAVs

Unmanned Aerial Vehicles(UAVs) have been performed important role in modern wars. Several countries including United States are accelerating developments on the unmanned aircraft systems while revealing their experimental works on the unmanned systems. Unmanned agents have been applied in many warfare situations such as reconnaissance, surveillance or retrieving land mines. In the future, however, multi and heterogeneous unmanned platforms will perform various cooperative tasks such as assault missions, which are managed by high-level commands from a commander. We are therefore doing a research on developing such a cooperative system for heterogeneous UAVs. We are focusing on designing a system to manipulate several fixed and rotary wing UAVs simultaneously in order to provide availability of cooperative missions.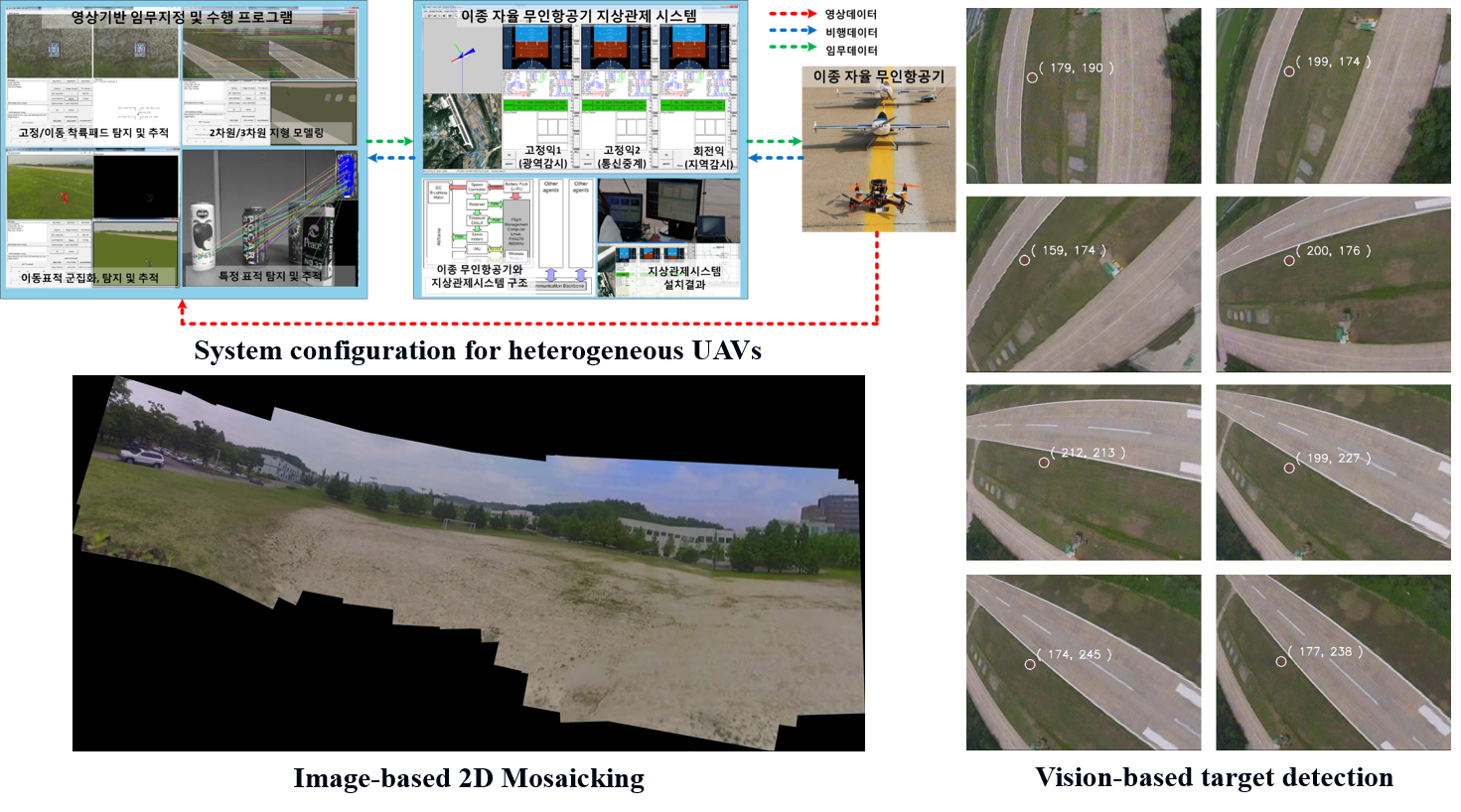 l Intelligence-based Unmanned Aerial Vehicle Control Specified Research Center

The aim of Intelligence-based Unmanned Aerial Vehicle Control Specified Research Center is developing the original technology of UCAV(Unmanned Aerial Combat Vehicle). Specified research center뭩 research objective is establishing the theoretical structures and related technology bases for single/multi UAV뭩 effective fulfillment of surveillance/reconnaissance/information gathering/ attack in future warfare. UAV used for reconnaissance and transportation conducts a key role in current warfare. In the near future, UAV is expected to play a key role in warfare by conducting missions such as destroying enemy뭩 air defense network, winning the air and other important tasks with sufficient maneuverability and attack ability. To reduce RCS(Radar Cross Section), UCAV requires specialized wing and body shape which causes instability of aircraft. Also, aerodynamic analysis of specialized wing and body is difficult. Thus, development of new smart flight control device, task design, decision making and effective ground system must be preceded for UCAV to be controlled stably and to perform attack missions which can be very complicating.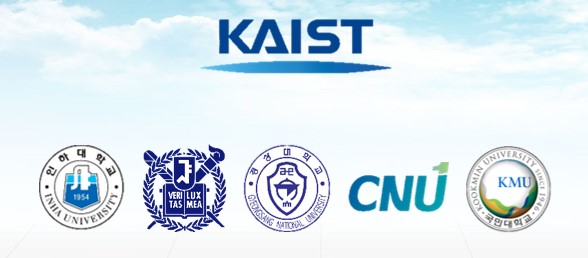 The specified research center뭩 key subjects of research are shape design of UCAV which has minimum RCS and to secure the original technology for smart guide control and decision making algorithm for improvement of performance ability. It is required to research the smart decision making algorithm, shape of UCAV for LPI(Low Probability of Intercept)/high agile maneuver, smart control system based on piloted handling and ground system for management of multiple UAV(Unmanned aerial vehicle).

The researches for UCAV have been conducted narrowly in South Korea. Thus, to secure technologies of related areas, establishment of specified research center for the development of UCAV technology and training of professional manpower was required. To meet these requirements, this specified research center conducts research on 3 detailed assignments. 3 detailed assignments are as follows;
SU-1 : A Study on Smart Decision Making Algorithm for Unmanned Air Vehicle
SU-2 : A Study on Smart Control System for Air-Combat-Maneuvering of Unmanned Aerial Vehicle
SU-3 : A study on the technology of Human-Machine Interaction to reduce load of multiple UAV operator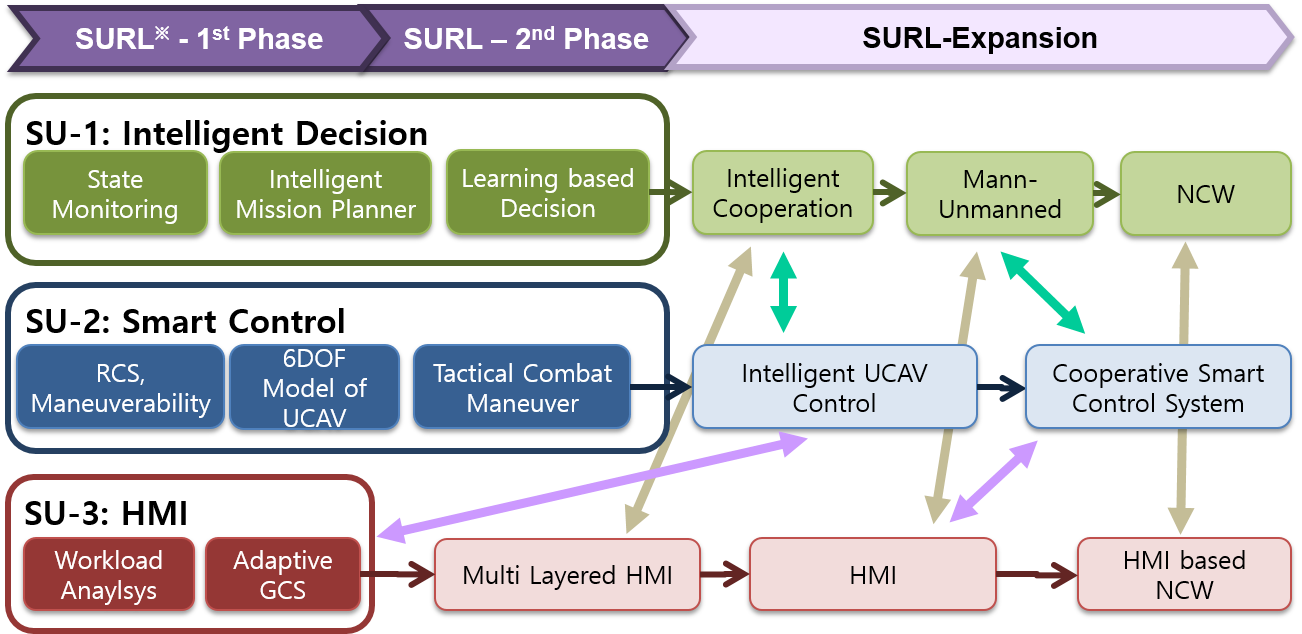 SU-1 : A Study on Smart Decision Making Algorithm for Unmanned Air Vehicle
The purpose of a Study on Smart Decision Making Algorithm for Unmanned Aerial Vehicle is to develop smart decision making algorithm to improve the mission success rate in response to uncertain and dynamic using environment, risk elements and changing of aircraft뭩 condition. To achieve this purpose, study on study items, as follows, will be conducted.
> Study on decision making algorithm architecture of intelligent-UCAV
> Study on system monitoring algorithm of intelligent-UCAV
> Study on profile scheduling and task scheduling/re-scheduling algorithm
> Study on intelligent learning algorithm
SU-2 : A Study on Smart Control System for Air-Combat-Maneuvering of Unmanned Aerial Vehicle
The purpose of a Study on Smart Control System for Air-Combat-Maneuvering of Unmanned Aerial Vehicle is designing UCAV뭩 shape satisfying LPI/High mobility and evaluating this design and then, using specified configuration, suggesting 6DOF(Degree Of Freedom) guidance model and designing intelligent control system based on piloted handling. To achieve this purpose, study on study items, as follows, will be conducted.
> Aerodynamic analysis for aircraft뭩 controllability and configuration design based on analysis of low RCS.
> Designing aerodynamic database about LPI configuration and constructing 6 DOF model for aerodynamic analysis and handling performance.